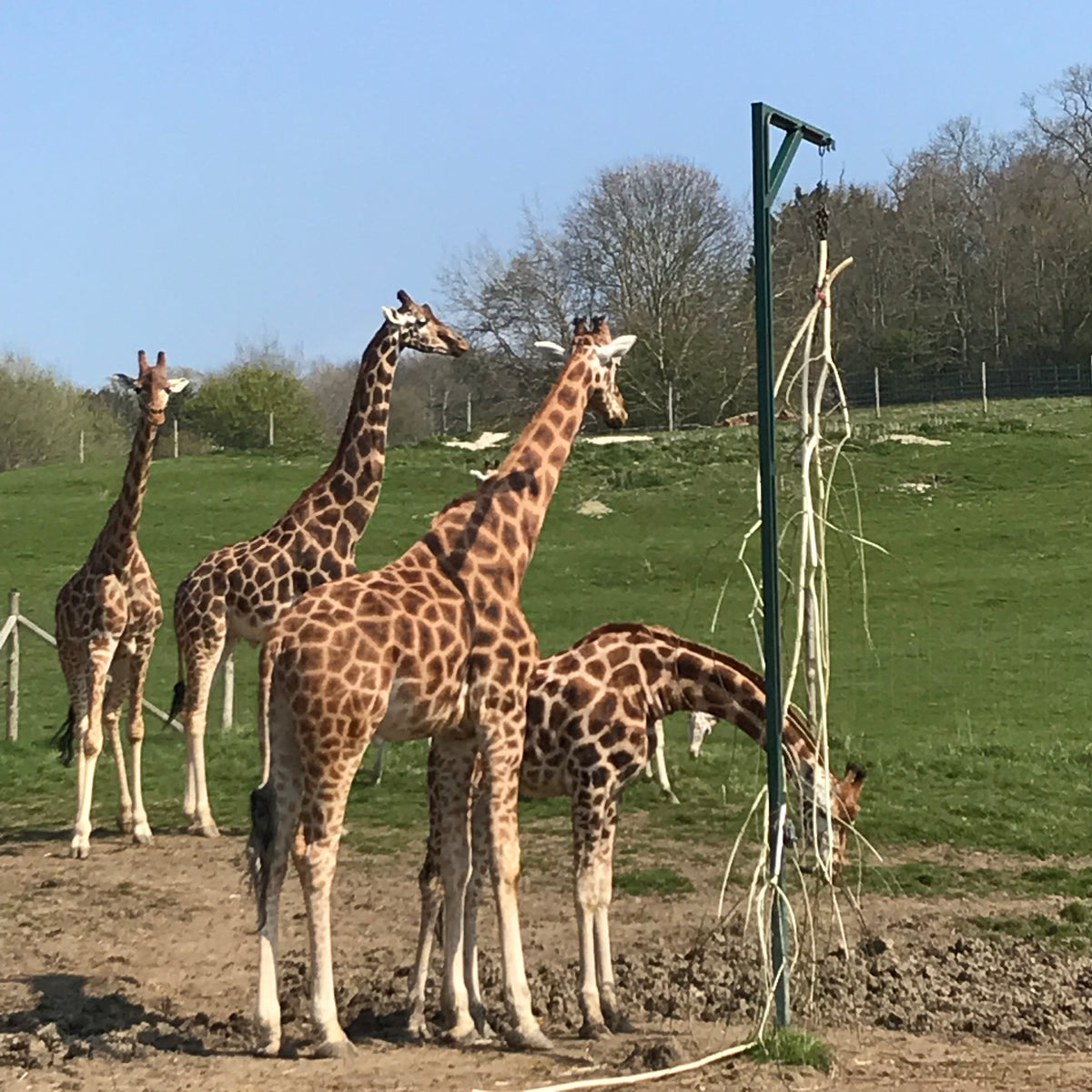 A big hello - welcome to our very first ExplorerBlog post!
If you're reading this, you must love family adventures as much as we do. Thank you for joining us on our mission to explore our amazing world and have tonnes of family fun together…
Coming up on the blog you can expect lots of useful information for activities and adventures with little ones, as well as inspiration for awesome family days out and trips away.  We'd love to share stories from other families out there too so please do get in touch if you'd like to be featured as a guest post…
So, with no further ado, here is our review of Port Lympne Hotel and Reserve which we visited Easter 2019 when our boys were just 5 and nearly 3.
Introducing Port Lympne!
Port Lympne Reserve and Hotel is a safari park and collection of unique hotels spread across acres of stunning parkland in Kent, England. They are run by the Aspinall Foundation who do amazing work breeding and reintroducing species into their natural habitats. During your visit you can encounter over 760 animals across 90 species.
Port Lympne also has a sister wild animal park called Howletts which is about 20 minutes' drive away.
You can visit the animal parks as a day visitor or entrance is included when you book any of the accommodation, ranging from simple forest pods and glamping tents, to the quirkier Treehouse Hotel and Lion and Tiger Lodges where you sleep within a whisker of the big cats.
In Port Lympne Reserve regular safari truck rides take you on an exciting adventure to see animals from South America, Asia and Africa roaming free in the parkland. There is also a huge loop of more traditional enclosures which you can walk around. We were struck with how much space the animals have and how close you can get to them. We booked this holiday with the children in mind but found that we were also awed by how close we could get to the animals and how much we learned about the endangered species.
Howletts park is laid out more like a traditional zoo, although again we were really impressed with the space and variety in the enclosures and how happy and free the animals all seemed. We visited in the school holidays, but it didn't feel at all crowded and we got many moments on our own to take in the animals. We even think we caught a glimpse of the Aspinall family playing with the cheetahs in their enclosure (they're famous for getting close to their animals!)
For added adventure there is also a treetops high ropes challenge at Howletts and a dinosaur trail at Port Lympne with tonnes of dinosaur models hidden throughout the forest. We certainly learned a few more dinosaur types!
We were lucky to try out three of the fabulous accommodation options, one per night. Each was styled in its own unique way….
Night 1 – Bear Lodge
When you arrive at Bear Lodge it really does feel like you're on safari in Africa. The tents are in two rows overlooking the bear enclosure and the beautiful Kent countryside. Each tent has loads of space inside. In our front-row tent there was a double bed; a double cubby bed which the boys opted to top and tail in as they loved being able to close themselves in with the shutters to go to sleep and play underneath it; and bunkbeds. Each sleeping area was partitioned off to create the illusion of separate bedrooms. The tent had a kitchen area with fridge, sink and storage cupboards; and a dining table, seating area and log burner. We were able to take breakfast foods and made several packed lunches. The toilet and shower were out back with an open roof, so you feel like you're washing al fresco but have the comforts of hot running water.
It's well worth choosing the front row for the gorgeous view. Each tent has a porch with lovely wooden furniture and cushions where you can sit with drinks and nibbles after a busy day in the park. Gin and tonics all the way for us (and fruit shoots for the little monkeys!)
You do have to be OK with hearing families in other tents as the walls are of course only fabric. I confess I struggled with the noise a bit as I needed to put earplugs in but wanted to be able to listen out for our small boys. We stayed in April and it got pretty chilly overnight. We were unlucky as we hit upon a night when the temperature dropped to zero degrees though! Being new to glamping I think we would have been better suited to a summer stay or one of the pods which might have been a little warmer than a fabric tent.
A stroll past the children's park and outdoor fire pit takes you to the onsite restaurant, Bear Lodge Grill, which really took us by surprise as it's modern, has a varied menu and the food was delicious. We chose to eat here all three nights even when we moved to the other hotels. It's just a short walk or golf buggy ride away from these (some of the hotel rooms come with their own golf buggy). They serve delicious continental and cooked breakfasts. For lunch and dinner, you can opt for the Mongolian grill where you select protein, vegetables and sauce of your choice; choose rice or noodles; and then have the chance to cook it yourself on the grill. Such fun! They also have an a la carte menu with classic dishes such as steak, fish, chicken curry and burgers. And of course, there's a children's menu with the usual tomato pasta, fish fingers and chicken nuggets type options. This came in handy for our youngest who will only eat fish fingers at the moment, aaargh! 
Night 2 – The Treehouse Hotel
Checking in at The Treehouse Hotel is simply magical. You're driven down from the main reception in a cool safari truck and are greeted by super friendly hosts at a trendy safari lodge overlooking the rhino enclosure. You complete the paperwork while sipping prosecco and toasting marshmallows over the firepit before being shown to your stunning glass fronted treehouse. The treehouses are reached by climbing some steep steps built into the hill but another fabulous view over the estate makes it all worth it. They feel secluded and peaceful, literally as if you're in the trees.
The treehouses are modern inside with a full kitchen, sitting room, television and wifi. Ours had a bathroom and two bedrooms which was perfect for our family of four.
One of the best bits about booking into one of the hotels is that you get a golf buggy with the room. Before we arrived I thought this was a gimmick but it was actually so much fun to take ourselves on our own mini safari around the park. Although you can't go into the wide-open enclosures where the big safari trucks go, there is still plenty of ground to cover and it would have been quite tricky for our little ones to manage all the walking. Of course, the boys rode up front with Daddy and found it hilarious to be putting Mummy in the back for once!
Although I'm OK with camping and can do without my creature comforts, I have to confess this was my favourite of the three nights, but it did come with the highest price tag.
Night 3 – Port Lympne Hotel
We spent our final night in the manor house hotel. We were once again greeted by really friendly staff at check in and the boys loved hearing about the secret passage behind the bookcase.
The hotel is brimming with colonial charm with wood panelling, old paintings, a stunning Moroccan courtyard, and a dining room with an ornate jungle fresco all over the walls and ceiling. The boys enjoyed spotting the animals watching over our breakfast table.
Out back there are gardens to stroll in and a maze for the kids to explore. You can stand above it and watch them running through the passageways. They feel free but you can see their every move!
You also get a golf buggy with the manor house rooms.
All in all, we had a fabulous mini break and would thoroughly recommend Port Lympne. The accommodation was characterful, the food was yummy, the staff were lovely and the experience was magical. There was tonnes to do so staying over meant that we could take our time and enjoy ourselves rather than try to cram it all into one day. You can choose your accommodation based on preferences and budget, the pods/tents being the most affordable while loads of fun and the treehouse and lodges blissfully luxurious. The manor house is somewhere in between.
For more information:
https://www.aspinallfoundation.org/port-lympne/